Community life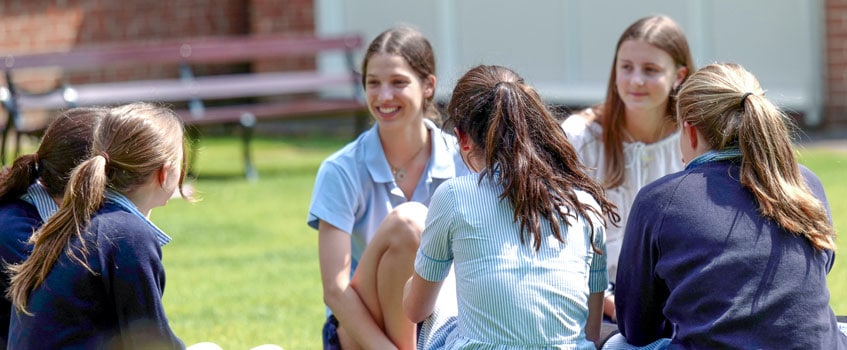 Boarding appeals to girls of all types: it develops their independence and cultivates a rich sense of community and common purpose. As a full boarding school, St Mary's is able to provide the culture, facilities and opportunities, both within and beyond the classroom, that enable the girls to lead a varied and fulfilling life.
Accommodation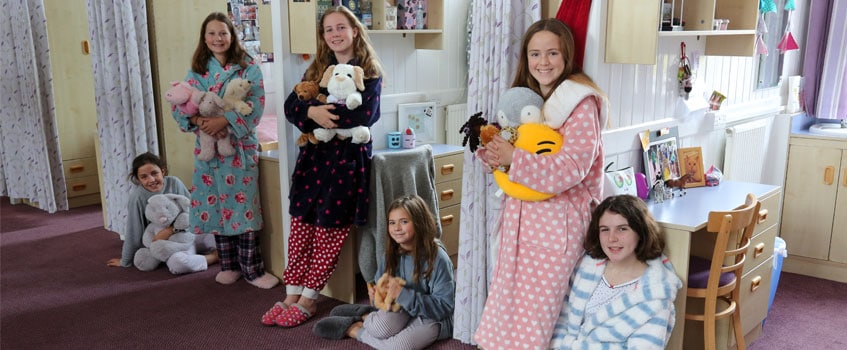 Girls share their boarding areas with other girls their age, so there are very strong relationships within each year. In Year 7, girls get to know each other through sharing rooms with several other girls. In Years 8 and 9, they share smaller rooms, and most girls also share in Year 10, though there are a few single rooms. All girls have their own room in Year 11. Every year group enjoys having its own common room where they can get together and relax. Boarding staff and grad assistants join the girls in their common room in the evenings to make hot chocolate and chat about their day.
Other year groups are always nearby, and strong friendships are formed between girls of all ages, through shared interests, societies, sport, music, drama, and through the mentoring and minding systems that involve girls from all year groups. Girls also greatly value the relationships that they build with teaching staff, who are often present in the evenings and on weekends, taking extra subject surgeries or running other activities. Residential staff live in flats within the boarding areas, so there is always someone just around the corner if the girls ever need anything during the night.
Sixth form accommodation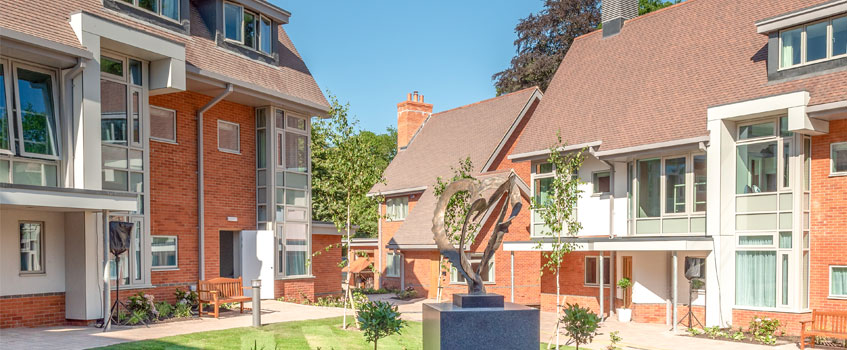 The Mary Ward Courtyard and Mary Breen Courtyard are our two purpose-built boarding complexes, each consisting of a number of town houses around a central courtyard, where the Lower Sixth and Upper Sixth live independently from the main school. Both complexes have their own residential staff. Every girl has her own study bedroom, and in the Mary Breen Courtyard these are all en-suite. Each house also has a kitchen and living area. In the Upper Sixth, girls often choose to eat breakfast 'at home', and then join the rest of the school for lunch and dinner in the refectory. The girls love the independence, whilst still feeling very involved with school life. The two years they spend in these houses are excellent preparation for life at university and beyond.
Food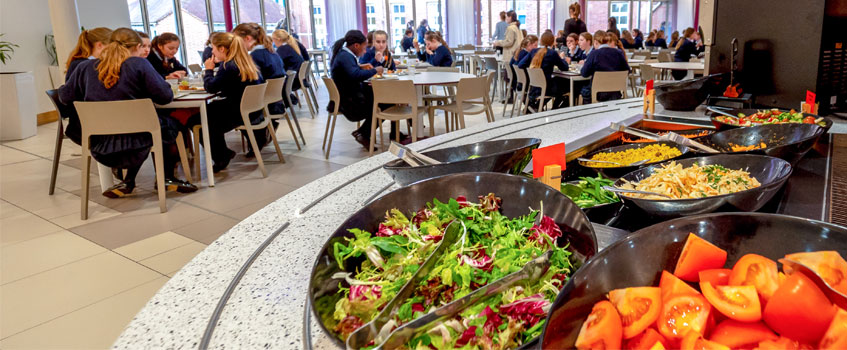 Food is a wonderful part of community life at St Mary's. The girls and staff all love the food, and the cheerful atmosphere in which meals are shared in our bright and modern refectory. At every meal there is a range of hot and cold options, and at lunch and supper there is also a varied and delicious salad bar. Girls may choose what they fancy, but there are staff on hand to guide them, and to ensure that they have a balanced diet. They can, and frequently do, go back for more.
Saints' feast days are celebrated with both Mass and a feast, often including an enormous cake, and houses regularly dine together at house suppers on Fridays. In the summer we have barbecues and pizzas from our outdoor pizza oven, and our Christmas dinner is legendary. Girls from all year groups are represented on the Food Committee, which reports on their likes and dislikes, and suggests additions to the menu. Visitors on Open Mornings are able to sample the food, and the girls happily tell them that it really is this good every day.
Pets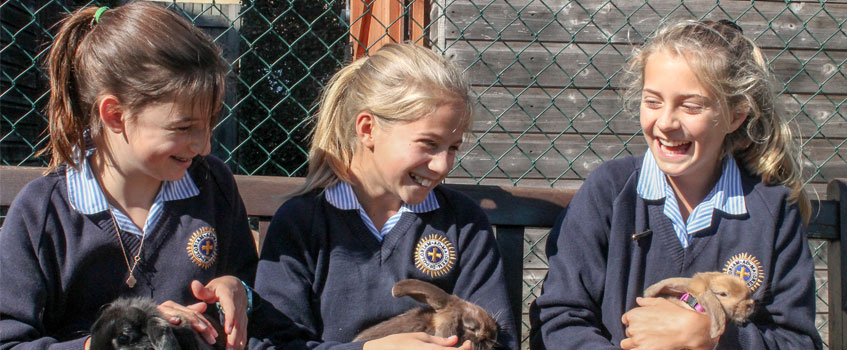 For many girls, being able to bring in their own pets to keep in the pet shed and garden is one of the many things that makes St Mary's feel like home. The pets are looked after entirely by the girls, who must ensure they are fed, watered, cuddled, and cleaned out regularly. It's a lovely way to make friends with other girls who have pets, and can provide an important physical link with home. The Pet Welfare Committee meets regularly to oversee things and awards prizes every term for the best kept pets.
Smash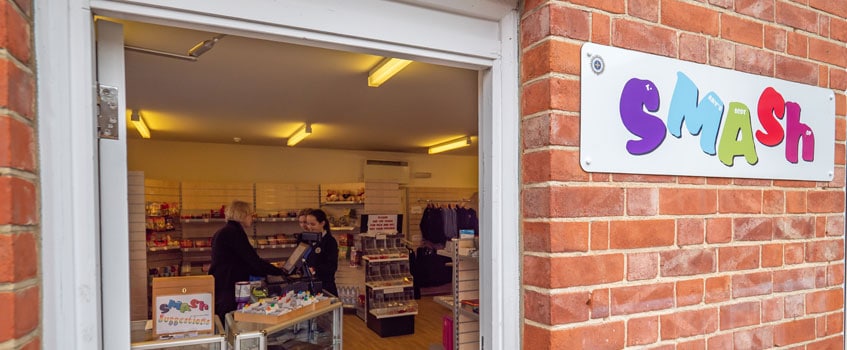 SMASH is the St Mary's School Shop and is a popular venue for girls during their breaks and on weekends. It sells a large range of stationery, toiletries, gifts and greetings cards, stamps, sports equipment, snacks and drinks, and is also where the girls go to collect their parcels. They can try on uniform items before ordering, and second-hand uniforms are also available. SMASH operates a cashless system: parents load their daughter's SMASH account online and can monitor and limit their spending.
Responsibilities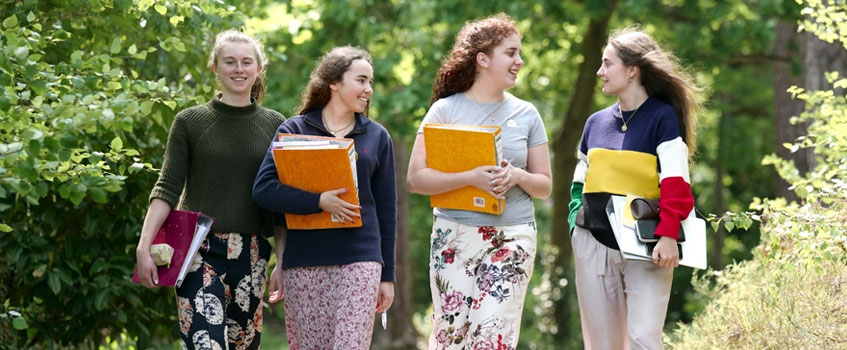 As they grow through the school, all girls have opportunities to take on roles of responsibility. Older girls act as minders to new girls, mentors to younger girls, and can also act as subject buddies, helping younger girls with their academic work. Girls from all seven year groups can serve on committees such as the Food Committee, the Cyber and Tech Committee, the Eco Committee, the Wellbeing Committee and the Charities Committee. These committees work with their peers to raise issues, organise projects, and provide feedback and ideas to the Senior Management Team. House activities are run by Sixth Form Captains in areas such as art, drama, music, sport, public speaking, science, charities, and liturgy. The House Captains, their deputies, and the Sixth Form Prefects play a major role in organising and running events for the younger girls.
Timeline of the school day
| | |
| --- | --- |
| 7:20 | Rising bell |
| 7:20-8:00 | Breakfast in the Girls Refectory (Upper Sixth may breakfast in their own kitchens) |
| 8:10 | First bell |
| 8:20 | Chapel |
| 8:40- 10:25 | Periods 1 and 2 |
| 10:25-10:55 | Break (food and drink served in the Girls Refectory) |
| 10:55-12:40 | Periods 3 and 4 |
| 12:40-13:50 | Lunch (including some clubs and activities) |
| 13:50-16:30 | Periods 5, 6 and 7 |
| 16:30 | Tea (served in the Girls Refectory) |
| 16:30 onwards | Sport and other activities |
| 18:00-20:00 | Supper (times staggered according to year groups and activities). Following supper, girls have free time. Activities and clubs continue throughout the evening. |
| 20:15-21:00 | Year 7 to their boarding areas by 20:15 – little lights at 20:40 – lights off at 21:00 |
| 20:30-21:15 | Year 8 to their boarding areas by 20:30 – little lights at 21:00 – lights off at 21:15 |
| 21:00-21:45 | Year 9 to their boarding areas by 21:00 – little lights at 21:30 – lights off at 21:45 |
| 21:45-22:00 | Year 10 Little lights at 21:45 - lights off at 22:00 |
| 22:15-22:30 | Year 11 Little lights at 22:15 - lights off at 22:30 |
| 22:30-23:00 | Sixth Form in houses by 22:30 – LVI little lights at 22:45 -lights off by 23:00 |
| | |
| | 'Little lights' is the time when the main lights in the boarding areas are turned off. Girls may keep their bedside light on in order to read. |