Curriculum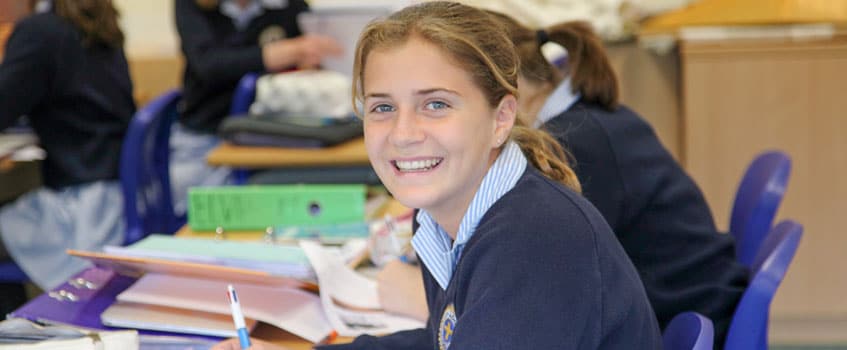 Years 7-9
In Year 7, girls are introduced to all the major curriculum subjects and learning skills. They have timetabled lessons in English, Maths, French, all three sciences, Religious Studies, Latin, Geography, History, Art and Design, Music and Drama.
In Year 8, girls follow the same timetable as in Year 7, but with the option of a second modern foreign language, either German, Italian or Spanish, and a carousel enables girls to sample each option before making a decision. Taster sessions are also available in Classical Greek and Mandarin.
In Year 9, girls follow the same timetable as in Year 8, but with further options in Classical Greek and Mandarin. It is often possible to offer extra lessons in other languages on request. I/GCSE work begins in Year 9 in some subjects.
GCSE and IGCSE
Years 10 and 11 are the I/GCSE years. Most programmes of study last for two years, and are examined in the summer of Year 11. Girls usually take ten subjects, and make their choices in the Lent term of Year 9. Exam boards are chosen to provide genuine rigour whilst also allowing girls to maximise their potential.
All girls follow a compulsory core of seven subjects which provides a balanced education and a secure foundation for further study. These core subjects are English Language, English Literature, a modern foreign language, Mathematics, Double Award Science and Religious Studies.
In addition to the core subjects, girls may choose three additional subjects from the following:
Double and Triple Award Science: All girls have separate lessons in Physics, Chemistry and Biology throughout Years 10 and 11. About half of each cohort complete Double Award Science, which involves exams in all three subjects, leading to the award of two IGCSE grades. Those girls who choose to do so, and these are often the pupils who are already thinking about A Level sciences, take Triple Award Science, leading to the award of separate IGCSE grades in all three subjects.
A Level
Girls are advised to take four subjects in the Lower Sixth and continue with three in the Upper Sixth. In some cases, girls studying Further Mathematics or a modern foreign language as a bilingual pupil may choose to begin with five subjects, and then drop to four or three in the Upper Sixth. Girls meet regularly with their tutor, and academic progress is reported to parents throughout the year.
The A Level subjects offered are:
Sixth Form girls also follow our General Religious Studies programme which explores a wide selection of theological and philosophical thought.
PSHCE: St Mary's has its own bespoke course for Personal, Social, Health and Citizenship Education, called Skills for Life. Please follow this link for further details.