Academic life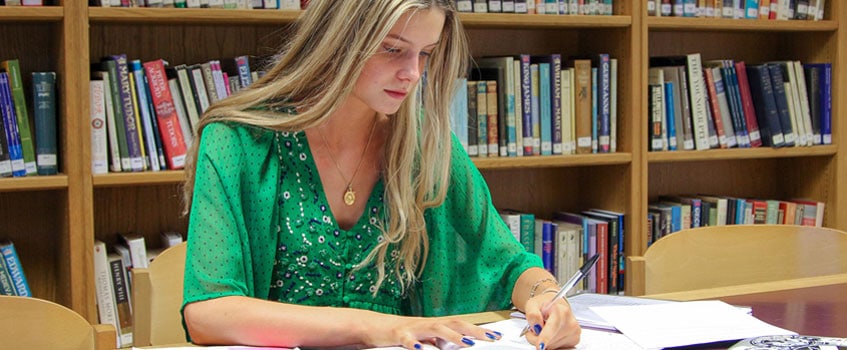 St Mary's is proud of being an academic community. The girls work hard and cheerfully, supported by superb teaching and an excellent pastoral system. They take pride in the improvements they make, they enjoy intellectual challenges, and they are willing to take risks along the way. All of this enables our girls to achieve outstanding results in public examinations, and to go on to a range of top universities both at home and abroad.
As boarders, the girls are able to help each other, forming revision groups around the school and benefiting from the availability of staff in the evenings and on weekends. They also enjoy a generous programme of outside speakers to broaden their intellectual and moral engagement with the world.
We understand that each girl's academic journey is a personal one, which is why we allow girls to choose the subjects that suit them, rather than confining them to a rigid block system. Being a single-sex school allows our girls to thrive on their own terms, and to learn the value of their own intellectual industry, which they then take with them into the world beyond school.
Academic life at St Mary's is not confined to the classroom. We are proud of having a vibrant, varied, pupil-led programme of events that is constantly responding to the needs and interests of the pupils and the world in which we live. Our Inspirational Women lecture series regularly brings in eminent speakers on a wide range of topical issues. There is also a stretch and challenge group called The Academy which has a programme of readings, discussions, lectures, and independent research.
The girls run their own societies in many areas of their academic life. These societies host talks, discussion groups, reading groups, and debates, and organise trips. Senior girls frequently set up and run societies for junior girls, and these have included events such as a science cartoon competition, a junior art history club, a junior history balloon debate, and a science and poetry picnic.
Trips are a regular feature of boarding life. Academic departments run outings to museums, theatres and activity centres. There are field courses in Geography and Biology, and also longer residential trips such as the biennial music tours to European cities, the Year 9 battlefields trip, and the Year 8 French trip to Normandy. More details of all of these societies, activities and trips can be found on the individual department pages of the website.