Spiritual life
St Mary's is a Catholic school, and the chapel is at the heart of our building and our everyday life. Our school motto is 'Ad Maiorem Dei Gloriam': 'for the Greater Glory of God'. A Catholic education means fulfilling human potential, not for self-aggrandisement, but for the Glory of God and for the benefit of others. That sense of service to the community, in all its meanings, was what inspired Mary Ward and continues to inspire us today. We remain faithful to that mission and express this purpose in the school's Vision and Ethos.
Vision
To provide a modern and holistic Catholic education of outstanding quality for young women to inspire and empower them to play their full part in the global community.
Ethos
The school's Ethos to realise this Vision is:
Nurturing in each pupil a sense of their own worth and talents by fostering their intellectual, spiritual and personal development.
Developing in each pupil a love of learning and independent thought through a rigorous academic education.
Promoting a strong sense of personal responsibility, kindness, cooperation and social justice founded in respect for the diverse needs of others in a global community.
Encouraging each pupil to enjoy the full sacramental life and spiritual richness of the Catholic Church.
Fostering a partnership between parents, school and the wider community.
Inspiring in each pupil the confidence to collaborate and to lead through an enriching and fulfilling boarding experience.
Following in the spirit of Mary Ward who cherished 'freedom of spirit, sincerity, and a cheerful disposition'.
Chapel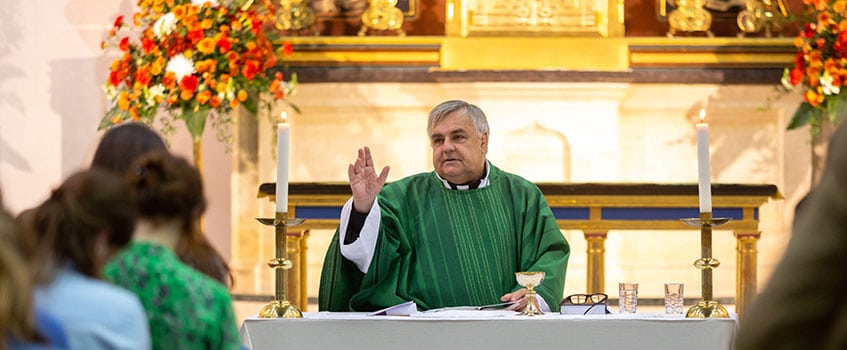 Chapel is at the heart of the school, and its doors are always open. It sits just off the central corridor in the main building, opposite the girls refectory, close to the House offices and the staircases that go up to the boarding areas. The school gathers in chapel four mornings a week, and also for Mass on Sundays. We also hold Mass for the whole school at the start of term, and on other special occasions such as Saint Cecelia's Day, and House Masses offer further occasions for worship in a more informal setting. The remaining two mornings involve prayers and assembly in Houses and with tutor groups. Our own Father Dermot leads us in Mass, and in prayers on other occasions, and is a regular and cheerful presence around school. The girls love sitting and chatting with him in the refectory, and value his calm wisdom and steadying influence in their busy lives.
In both whole school and House assemblies, the girls often prepare and lead worship. This can range from reflecting on the life of a saint whose feast day the church is celebrating to a dramatic presentation of the teachings of the prophets. Staff too across the curriculum lead whole school prayers, demonstrating the rich traditions and styles present in the St Mary's community. Girls act as Eucharistic ministers at Mass, and alumnae often speak about this public role in communion as one of their most powerful memories. In addition, the Liturgy Captains organise Praise and Worship evenings in the crypt for younger girls, which are followed by cookies and hot chocolate.
Retreats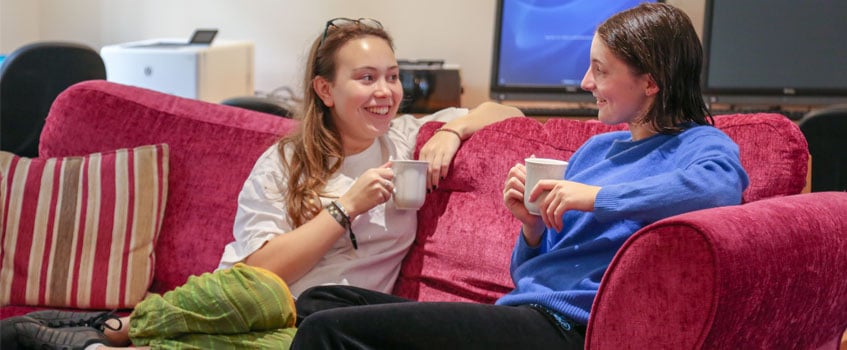 All pupils go on retreat for one or two days every year. We feel that it is essential for each girl to be given time to step out of everyday school life, and reflect on her faith, her relationships with others, and where she is on her spiritual journey. We believe that a genuine Christian commitment cannot simply be taught but must be encouraged by example and nurtured through instruction, support and discussion.
Retreats are led by experienced retreat directors and involve a variety of activities that give the girls rest, a change of routine, and therefore the time and space for spiritual reflection. Retreats always follow a theme, such as the need for faith in times of change, or the value of prayer, as well as preparation for Confirmation in Year 10. Retreats might include discussions, workshops, some drama or a film, walks in our beautiful grounds, and the chance to enjoy silence and prayer. They give the girls an opportunity to talk things through in a calm and supported atmosphere.
Confirmation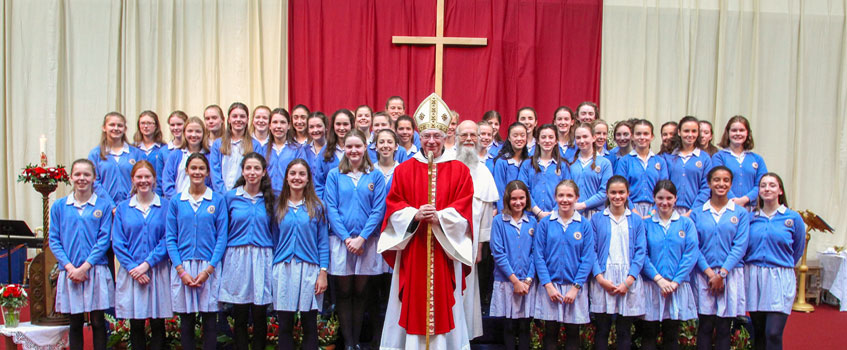 Confirmation takes place every year and is a significant event that we celebrate together as a community, including parents and staff. The girls receive the Sacrament of Confirmation at a special Mass celebrated by the Bishop of our Diocese or his representative. They prepare carefully for this moment in their sacramental journey. They have weekly lessons in Religious Studies, which are a fixed part of the timetable, but they also meet in smaller discussion groups led by catechists who are members of staff and practising Catholics. These often take place in the home of one of the pastoral staff, over coffee and biscuits, and are lovely informal opportunities for the girls to talk about their faith. They also have a day of recollection during the final run-up to the Confirmation itself.
History of Mary Ward and St Mary's School Ascot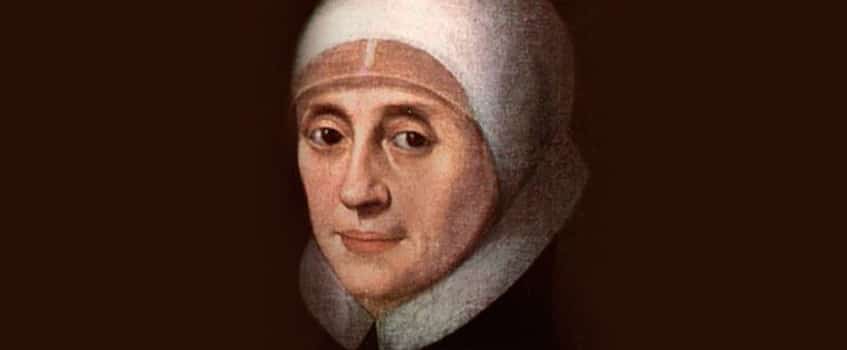 Mary Ward was born in 1585 into a wealthy recusant Catholic family near Ripon in Yorkshire. She received a good classical education, and then, at the age of 15, she decided upon the religious life, and entered the monastery of Poor Clares in St Omer. By 1609, she had gathered around her a group of companions determined to follow her guidance in founding an unclosed religious Order for women along the lines of the Society of Jesus. This Order became known as the Institute of the Blessed Virgin Mary. Mary Ward believed that women were intellectually equal to men and deserved an education that reflected that equality. The education of girls therefore remained central to her work, and for the next twenty years she travelled widely, often on foot, founding schools all over Europe. In 1639, she returned to England, founding several free schools in London, before settling in Heworth, near York, where she founded a convent. Mary Ward died at St Mary's School in York in 1645.
The Institute which Mary Ward found, continued its work in education in the following centuries. In 1885, Mother M Joseph Edwards opened a House in Ascot, named after Our Lady of the Snows, a name of which Mary Ward was particularly fond. St Mary's School duly opened with just 19 pupils under the Headship of Sister Veronica Lund (1885-91). The earliest buildings remain at the heart of the school, including the chapel, which was consecrated in 1906, and the layout of the estate included the rhododendrons and azaleas which still greet visitors as they come up the drive. Under Mother Cecelia Marshall, Headmistress from 1905-1921, the roll grew to 90, and the school established its reputation with alumnae as a happy, family community to whom they were happy and keen to entrust their own daughters. Mother Ignatius Beveridge succeeded Mother Cecelia, and ran the school until 1949, during which time it acquired its reputation for professional high standards. University entrance became more common, and the school celebrated its first Oxbridge entrants. Errollston was opened in 1936 to cater for girls wanting to stay in education beyond 16.
Mother Bridget Geoffrey-Smith, Headmistress from 1956-76, remained true to the original founding mission of educating Catholic girls, but sought to broaden the intake and increase numbers. She employed the first full-time lay teacher and made sure that external examinations were taken much more seriously. By 1970, Errollston had become so oversubscribed, and the syllabus had changed so much, that it was absorbed into the main school as a two-year academic Sixth Form. Sister Emmanuel Orchard then began the process of modernising the school, a task which Sister Mark Orchard then continued between 1982 and 1999. A Board of Governors was appointed, lay teachers became more common, and the IBVM gradually withdrew from direct involvement. In 1986, the management of the school was handed over to the St Mary's School Trust. New buildings appeared, including the Science and Art Blocks, the indoor swimming pool, and the Mary Ward Courtyard. When Sister Mark (now Sr Frances) retired from Headship in 1999, Mrs Mary Breen became the school's first lay Headmistress. She served for over twenty years, before handing over to Mrs Danuta Staunton in 2019. The school roll settled at around 390, while expansion of the facilities continued, including a new theatre building, libraries, sports centre, athletics track and a second Sixth Form boarding house complex, completed in summer 2018. Throughout all these changes, the school has remained true to the original aim of Mary Ward: the education of girls within a Catholic community. Mary Ward believed that 'Women in time will come to do much', and St Mary's School Ascot is proud still to be fulfilling that vision.