Home >
Examination results
Examination results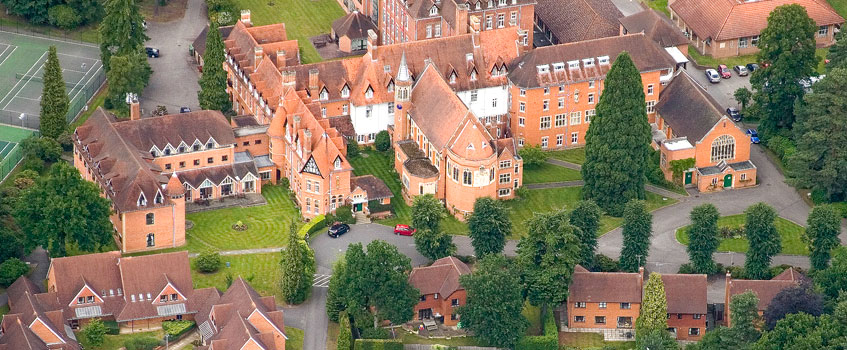 We are delighted to celebrate our examination results again this year. We continue our very strong record at A Level, with 33% A* grades, and 69% A*/A.
At GCSE our girls achieved a stunning 97.8% A*/A grades (or the new numerical equivalent of grades 9-7).
We are extremely proud of all our girls, who have worked so hard and so cheerfully, and we are grateful also for the excellence and diligence of our teaching staff.
You can view our results in more detail below. Alternatively, please click this link to download the A Level and I/GCSE results in pdf format: External exam results, updated October 2018.
A Level results 2018 - Summary by subject
A Level Grades
A*
A
B
C
D
E
Total
%
A*
%
A*-A
%
A*-B
%
A*-C
%
A*-D
Art and Design
5
0
0
0
0
0
5
100
100
100
100
100
Biology
3
3
3
3
0
0
12
25
50
75
100
100
Chemistry
1
5
2
1
0
1
10
10
60
80
90
90
Classical Civilisation
0
0
1
1
0
0
2
0
0
50
100
100
Classical Greek
0
2
0
0
0
0
2
0
100
100
100
100
Economics
2
4
3
1
0
0
10
20
60
90
100
100
English Literature
13
4
0
0
0
0
17
76
100
100
100
100
French
7
8
3
1
0
0
19
37
79
95
100
100
Further Mathematics
2
0
0
0
0
0
2
100
100
100
100
100
Geography
3
1
2
0
0
0
6
50
67
100
100
100
German
4
1
0
0
0
0
5
80
100
100
100
100
History
1
6
4
1
1
0
13
8
54
85
92
100
Italian
0
2
0
0
0
0
2
0
100
100
100
100
Latin
4
2
1
0
0
0
7
57
86
100
100
100
Mathematics
4
11
6
1
0
0
22
18
68
95
100
100
Music
1
0
1
0
0
0
2
50
50
100
100
100
Photography
1
1
0
0
0
0
2
50
100
100
100
100
Physics
1
0
1
0
0
1
3
33
33
67
67
67
Politics
6
6
8
1
0
0
21
29
57
95
100
100
Spanish
2
4
0
1
0
0
7
29
86
86
100
100
Theology
2
8
5
0
0
0
15
13
67
100
100
100
A Level grades
62
68
40
11
1
2
184
34
71
92
98
99
A Level results 2018 - Pre U Grades
Pre U Grades
D2
D3
M1
M2
M3
P2
P3
Total
%
D2
%
D2- D3
%
D2-M3
%
D2-P2
%
D2-P3
History of Art
2
3
5
1
0
0
0
11
18
45
100
100
100
A Level results 2018 - Total A Level grades
A Level grades
A*
D2
A
D3
A/B
M1
B
M2
C
M3
D
P2
E
P3
Total
%
A*
%
A*-A
%
A*-B
%
A*-C
%
A*-D
Total
64
71
5
41
11
1
2
195
33
69
93
98
99
A Level results 2018 - Historical summary
| | | | | | | | | | | |
| --- | --- | --- | --- | --- | --- | --- | --- | --- | --- | --- |
| | 2018 | 2017 | 2016 | 2015 | 2014 | 2013 | 2012 | 2011 | 2010 | 2009 |
| Total A Levels | 195 | 194 | 189 | 175 | 185 | 190 | 192 | 189 | 178 | 154 |
| Total candidates | 62 | 62 | 62 | 57 | 58 | 60 | 60 | 59 | 54 | 48 |
| % A* grades | 33 | 31 | 30 | 33 | 33 | 30 | 37 | 25 | 20 | n/a |
| % A* - A grades | 69 | 76 | 71 | 76 | 75 | 73 | 72 | 75 | 70 | 77 |
| % A* - B grades | 93 | 91 | 89 | 95 | 95 | 94 | 91 | 94 | 93 | 94 |
| % A* - C grades | 98 | 99 | 96 | 99 | 98 | 98 | 98 | 96 | 98 | 99 |
GCSE Results 2018 - Summary by subject
GRADES
CUMULATIVE %
Subjects graded A* to G
A*
A
B
C
D
Total
% A*
% A* / A
% A*- B
% A*- C
% A*- D
Computer Science
2
1
0
0
0
3
67
100
100
100
100
History
25
12
0
2
0
39
64
95
95
100
100
Italian
5
0
0
0
0
5
100
100
100
100
100
Mandarin
1
1
0
0
0
2
50
100
100
100
100
Music
1
2
0
0
0
3
33
100
100
100
100
Double Science (1)
25
7
1
1
0
34
74
94
97
100
100
Double Science (2)
17
14
1
1
1
34
50
91
94
97
100
Science-Biology
20
1
0
0
0
21
95
100
100
100
100
Science-Chemistry
19
2
0
0
0
21
90
100
100
100
100
Science-Physics
19
2
0
0
0
21
90
100
100
100
100
Early French
7
0
0
0
0
7
100
100
100
100
100
Early German
1
0
0
0
0
1
100
100
100
100
100
Early Italian
7
0
0
0
0
7
100
100
100
100
100
Early Mandarin
2
0
0
0
0
2
100
100
100
100
100
Early Spanish
4
0
0
0
0
4
100
100
100
100
100
Total results for subjects graded A* to G
155
42
2
4
1
204
76
97
98
100
100
Subjects graded
9-1

9
8
7
6
5
4
3
Total
%
9
%
9/8
%
9-7
%
9-6
%
9-5
%
9-4
%
9-3
Art & Design
13
7
5
0
0
0
0
25
52
80
100
100
100
100
100
Classical Greek
4
1
0
0
0
0
0
5
80
100
100
100
100
100
100
Drama
1
2
0
2
0
0
0
5
20
60
60
100
100
100
100
English Lang
51
4
0
0
0
0
0
55
93
100
100
100
100
100
100
English Lit
44
8
3
0
0
0
0
55
80
95
100
100
100
100
100
French
15
11
9
0
0
0
0
35
43
74
100
100
100
100
100
Geography
10
10
4
0
0
0
0
24
42
83
100
100
100
100
100
German
2
0
0
0
0
0
0
2
100
100
100
100
100
100
100
Latin
15
3
0
0
0
0
0
18
83
100
100
100
100
100
100
Mathematics
39
12
3
1
0
0
0
55
71
93
98
100
100
100
100
Photography
3
2
2
0
0
0
0
7
43
71
100
100
100
100
100
Religious Studies
28
15
8
2
0
0
0
53
53
81
96
100
100
100
100
Spanish
14
1
0
0
0
0
0
15
93
100
100
100
100
100
100
Total results for subjects graded 9-1
239
76
34
5
0
0
0
354
68
89
99
100
100
100
100
Total results for all GCSE subjects
239
231
76
7
4
0
1
558
43
84
98
99
100
100
100
GCSE Results 2018 - Historical summary
| | | | | | | | | | | |
| --- | --- | --- | --- | --- | --- | --- | --- | --- | --- | --- |
| | 2018 | 2017 | 2016 | 2015 | 2014 | 2013 | 2012 | 2011 | 2010 | 2009 |
| Total GCSEs | 558 | 642 | 630 | 607 | 695 | 593 | 547 | 634 | 602 | 603 |
| Total candidates | 55 | 64 | 62 | 60 | 69 | 60 | 54 | 62 | 60 | 60 |
| %A* (9/8) | 84 | 73 | 63 | 64 | 62 | 73 | 60 | 63 | 56 | 54 |
| %A* - A (9-7) | 98 | 90 | 88 | 89 | 86 | 95 | 87 | 89 | 88 | 85 |
| %A* - B (9-6) | 99 | 98 | 97 | 99 | 96 | 99 | 96 | 97 | 97 | 97 |
| %A* - C (9-4) | 100 | 99 | 99 | 100 | 100 | 100 | 100 | 99 | 96 | 100 |