Religious Studies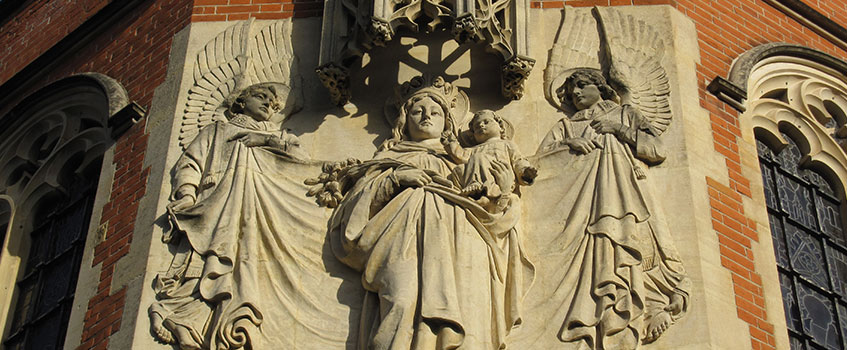 Religious Studies is taught to all girls in Years 7, 8 and 9, and is a core subject at GCSE. Theology is then an option at A Level, but all girls continue with a programme of philosophical, religious and ethical thought in the Sixth Form.
In Years 7 to 8, girls follow a course inspired by the CTS series The Way, The Truth and The Life. They explore subjects such as the person of Jesus, the nature of discipleship, and the meaning of the Hebrew scripture. The course makes imaginative use of drama, art, music and film in delivering the syllabus.
In Year 9 girls begin with an exploration of philosophical and ethical concepts, and then move on to begin the GCSE course.
At GCSE, Religious Studies is a compulsory subject at St Mary's, and follows the AQA B course. Areas of study include Roman Catholic belief and practice, Judaism, and moral principles. The girls consider Christian approaches to moral and ethical topics such as marriage, the family, and social justice.
At A Level, pupils follow the OCR course. This involves exploration of the philosophy of religion, religion and ethics, and developments in Christian theology.
Religious Studies in the Sixth Form
Girls who are not taking Theology A Level still continue with Religious Studies in the Sixth Form. This course involves the discussion of current affairs, philosophical and ethical concepts, and the role of religion in society, and is supported by a series of lectures by outside speakers.
Beyond the classroom
Year 7 girls go on a trip to see The Life of Christ at Wintershall. In Year 8, as part of their study of other religions, all the girls go on a day trip to the Jewish Museum in London. We regularly host a revision conference at school. This is a whole day event involving seminars and workshops that explore elements of the GCSE course, while also providing a flavour of A Level-style discussion. Sixth Form pupils attend conferences in London and Oxford. In addition, the Theology Society shares its enjoyment of books and films, and also provides a discussion forum for the exploration of topics outside the exam syllabus. There is also an annual discussion group with Eton College, which involves the exploration of texts such as Plato's Symposium and Mills' On Liberty.
The Religious Studies department also plays a major role in organising and helping to run the year group retreats which take place throughout the year. They also support Year 10 with their preparations for Confirmation.