History of Art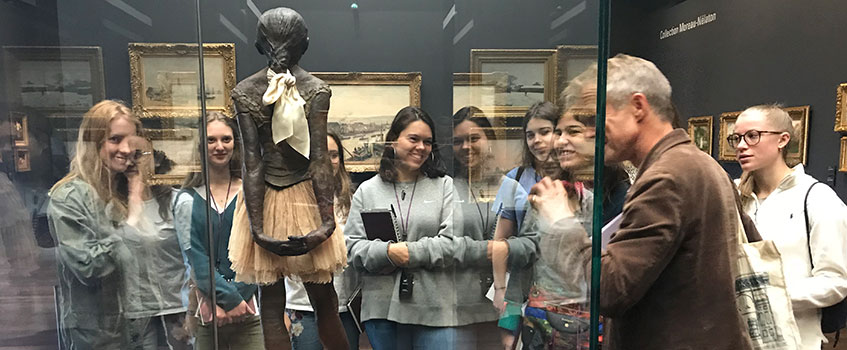 History of Art is available in the Sixth Form, and follows the Pearson A Level course.
Pupils learn about human history and the artistic expression of civilisations through the study of painting, sculpture and architecture. They look at the Renaissance in Italy and Modernism in Europe, as well as exploring thematic links such as nature and identity. Object-based education is an essential element of the course, so Sixth Form art historians travel to exhibitions and museums regularly, as well as abroad to Paris, Florence and Rome to study works in situ.
Beyond the Classroom
The Minerva Society organises trips and talks as an integral part of the A Level course, as well as to extend the pupils' appreciation of art more broadly. Recent speakers have included Simon O'Meara from SOAS and Nick Ross, Director of Art History Abroad. The senior girls also run ArtSpark, a Junior Minerva Society designed to give younger girls some experience of the subject prior to A Level.
As well as the two overseas residential trips, the Department runs regular trips to London museums and galleries. Girls have also enjoyed private candle-lit tours of St George's Chapel in Windsor Castle and Sandham Chapel.
Parents' Trips
Every year, the Department organises and leads a guided day trip to a London art collection for parents, and a guided weekend trip to a European city. In recent years we have visited the National Gallery, Tate Britain, the Foundling Museum, Dulwich Picture Gallery, and the V&A. Weekend trips have visited Naples, Amsterdam, Lisbon, Rome, Florence, Palermo, Madrid, Tuscany and Veneto. As well as being great fun, these trips have also raised money for charities such as CAFOD, the Coram Foundation and the Westminster Diocese Lourdes Fund.
SPoKE: The national art history documentary film-making competition
St Mary's art historians enter the SPoKE national art history film-making competition ever year, and have provided many of its prize winners and runners-up.
For information about SPoKE, please click here.