Home >
Drama and Theatre Studies
Drama and Theatre Studies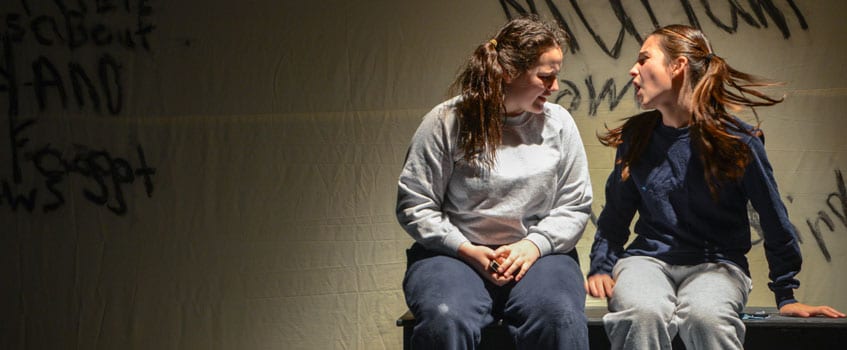 Drama is taught to all girls in Years 7 to 9. It is then an option at both GCSE and A Level.
In Year 7, the girls are introduced to a wide range of theatrical styles, live performances and basic stagecraft, including Greek theatre, silent movies, radio plays, and immersive, long-form role plays.
In Year 8, they experience a range of theatrical styles and practitioners, from commedia dell' arte to Laban's Eight Efforts of Action. Every girl also participates in performances of condensed Shakespeare plays that are presented to parents as part of the Year 8 parents meetings.
In Year 9, the girls learn about dramatic genres such as forum theatre and physical theatre. They use political theatre to look at issues such as the suffragettes and homelessness, and they also explore script-writing.
At GCSE, pupils follow the Eduqas Drama course, which contains a significant practical element. The girls put on their own devised pieces as well as performances from text, which are chosen by the girls in consultation with the department. Recent choices have included The Wasp, Be My Baby, and My Aching Heart. Trips to live performances are a regular part of the course, and girls normally see ten or more plays during the two years, in addition to seeing performances through the NT Archives and Digital Theatre. There are also regular workshops with professional practitioners.
At A Level, pupils follow the AQA Drama and Theatre course, which combines challenging practical performance with intellectual rigour and academic enquiry. The course includes the creation of a piece of devised theatre, accompanied by a written portfolio, and the exploration and performance of three extracts from contrasting plays. Previous extracts have included work by Tennessee Williams, Edward Albee, Steven Berkoff, Philip Ridley and Caryl Churchill. The written examination includes the study of Ibsen's Hedda Gabler and Timberlake Wertenbaker's Our Country's Good, as well as the analysis and evaluation of a live theatre production seen during the course.
Trips to live performances are a regular part of the GCSE and A Level courses. Girls normally see ten or more plays, in addition to seeing streamed performances through National Theatre Live. There are also regular workshops with professional practitioners such as RedCape Theatre, Splendid Theatre and Frantic Assembly.
View gallery of recent productions
Beyond the classroom
There are plenty of opportunities for girls to perform on stage and to support productions in backstage roles. In any academic year the department puts on at least seven productions in either our fully-equipped, professional-standard 400-seat Rose Theatre, or our intimate, fully-equipped black-box space, the Rufus Sewell Studio. Recent productions have included A Midsummer Night's Dream, Antigone, The Wizard of Oz, The Wardrobe, Little Women, The House of Bernarda Alba, Jane Eyre and The Canterbury Tales.
Every year our Sixth Form Drama Captain directs a play of her own choosing. Recent productions have included Red by Somalia Seaton, Out of Love by Elinor Cook, and As We Forgive Those by Andrew Smith.
There is an annual House Drama Festival, the entries for which are directed by the Sixth Form House Drama Captains, and the pupil-led open platform A New Narrative, in which girls perform new and original material in a relaxed studio environment.
Taking advantage of its many close professional contacts, the department holds acting for camera and audition technique workshops with professional actors and casting directors. Girls also enjoy using our high quality video recording equipment to participate in our short film competition, in which House teams take control of all aspects of the film-making process from directing and editing to sound and costume.