Home >
Drama and Theatre Studies
Drama and Theatre Studies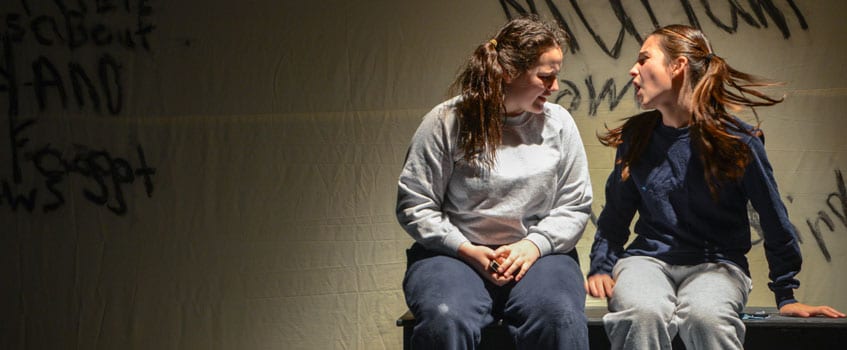 Drama is taught to all girls in Years 7 to 9. It is then an option at both GCSE and A Level.
In Year 7, the girls are introduced to a wide range of theatrical styles, live performances and basic stagecraft, including mask and puppet-making workshops.
In Year 8, they experience a range of theatrical styles and methods, from the ancient Greeks to commedia dell' arte. They go on a day trip to the Globe theatre, which includes a tour and workshops. Every girl also participates in performances of condensed Shakespeare plays that are presented to parents as part of the Year 8 parents meetings.
In Year 9, the girls learn about dramatic genres such as forum theatre, farce, musical theatre, and physical theatre. They use political theatre to look at issues such as the suffragettes and homelessness. They also try their hand at script-writing.
At GCSE, pupils follow the Eduqas Drama course, which contains a significant practical element. The girls put on their own devised pieces as well as performances from text, which are chosen by the girls in consultation with the department. Recent choices have included The Wasp, Be My Baby, and My Aching Heart. Trips to live performances are a regular part of the course, and girls normally see ten or more plays during the two years, in addition to seeing performances through the NT Archives and Digital Theatre. There are also regular workshops with professional practitioners.
At A Level, pupils follow the AQA Theatre Studies course, which again highlights the practical side of the subject while maintaining intellectual rigour and a sense of academic enquiry. The course includes the creation of a devised piece of theatre and performances of three extracts from contrasting plays. Previous performances have covered plays by Tennessee Williams, Edward Albee, Steven Berkoff, Philip Ridley and Caryl Churchill.  Set texts include classic theatre such as Hedda Gabler alongside contemporary works such as Timberlake Wertenbaker's Our Country's Good.
View gallery of recent productions
Beyond the classroom
The department regularly takes girls to see live theatre. GCSE and A Level girls have recently enjoyed trips to see Hadestown at the National Theatre, The Curious Incident of the Dog in the Night-time at the Piccadilly Theatre, Twelfth Night at the Young Vic, and All My Sons at the Old Vic. Trips for lower school girls have included Les Misérables at the Queen's Theatre and Wicked at the Apollo.
The department also runs a bi-annual trip to New York City to visit Broadway. On the 2019 trip, the girls saw several plays, including Sam Shephard's True West and Disney's Frozen, as well as visiting a number of culturally important American landmarks and taking part in theatrical workshops with Broadway performers.
Girls can opt to take Extra Drama, which leads to the Trinity Guildhall examinations and beyond. Extra Drama pupils in Years 7 to 9 put on a showcase of their Shakespeare work every year in the Rose Theatre, while the Year 10 girls perform contemporary pieces.
There are plenty of opportunities for girls to perform on stage. In the 2018-19 academic year, the department have put on A Midsummer Night's Dream, Antigone, The Wizard of Oz, The Wardrobe, Little Women and The House of Bernarda Alba. Every year the Drama Captain directs a play of her own choosing, which this year was Red. Year 8 drama teachers produce a reduced Shakespeare performance, and the Extra Drama pupils perform monologues and duologues in An Evening with the Bard. There is also an annual House drama festival, the entries for which are directed by the Sixth Form Drama Captains, and the pupil-led open platform A New Narrative, in which girls can perform new and original material in a relaxed studio environment.