Home >
Universities and careers
Universities and careers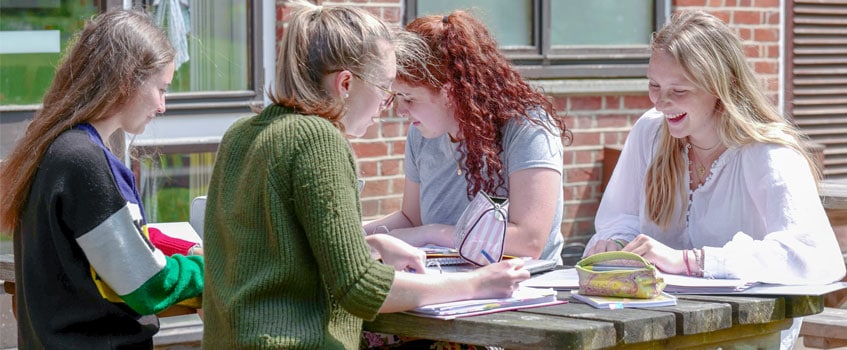 Education does not finish at A Level. The choices which the girls make affect the broader trajectory of their lives as they move from adolescence into adulthood, and the importance of those choices is reflected in the advice and support we give them. In Years 10 and 11, the girls receive advice from experienced tutors, Heads of House, Heads of Department, and the Academic Deputy Head about A Level choices, and these choices are carefully monitored in the first weeks of the Sixth Form.
Throughout the Sixth Form, the girls receive regular talks and advice about their Higher Education options. Girls are able to come to the Senior Library for careers advice whenever they need it, and also to explore the excellent careers resources. Information is available on everything from open days and scholarships to applications and gap year projects. Regular meetings with tutors help the girls to focus on the UCAS application process from an early stage, and their progress is carefully monitored by the Director of Sixth Form and his team. Speakers from universities come in to talk about the admissions process, and our excellent Inspirational Women series of talks provides a wide range of first-hand advice and careers experience. The girls also benefit from the careers guidance service Tinker Tailor. Careers seminars are held every year, and the school's Alumnae Association holds a biannual careers conference, at which the girls can talk directly to their predecessors about their experiences. The result of all this is that they make choices that are fully informed, ambitious, realistic, and right for them. When they come back as alumnae, we are always very proud of how warmly and positively they talk to the girls who are here now and following in their footsteps.
University destinations  for our 2018 leavers were as follows:
18% of the year group achieved places at Oxford or Cambridge.
70% of the year group achieved places at Russell Group universities: Oxford, Cambridge, Durham, UCL, Bristol, Warwick, Exeter, Imperial, Newcastle, Edinburgh, Queen's Belfast and Cardiff.
Other leavers went to St Andrew's, Derby, and Camberwell College of Art in the UK; McGill in Canada; MGIMO in Moscow; IE University in Madrid; and Columbia, Georgetown, Johns Hopkins, NYU and Northeastern in the USA.