Home >
Universities and careers
Universities and careers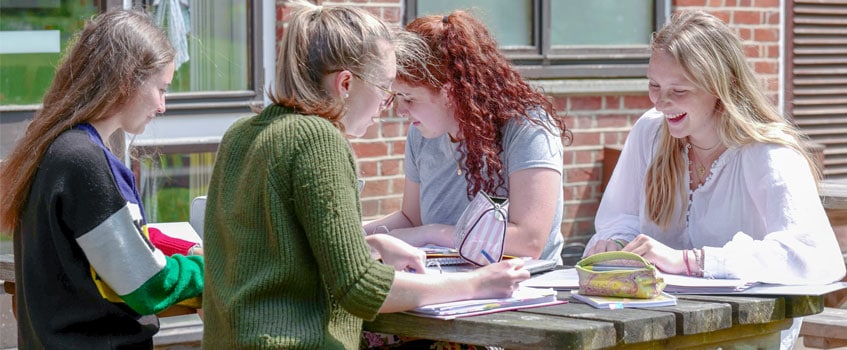 Education does not finish at A Level. The choices which the girls make affect the broader trajectory of their lives as they move from adolescence into adulthood, and the importance of those choices is reflected in the advice and support we give them. This includes:
weekly tutor time and our bespoke Skills for Life programme
online subscription services
the Tinker Tailor careers mentoring consultancy
regular talks and workshops
the biennial Alumnae Careers Fair
the alumnae mentoring scheme
timetabled one-to-one support from tutors, an independent careers advisor and the Careers Co-ordinator
A girl's tutor supports her with careers provision throughout her time at St Mary's. The guided use of online subscription services gives each girl the tools to research careers and use this to inform meaningful discussions with her tutor and Head of House, the Careers Co-ordinator, and parents.
In Years 7 and 8, a light touch approach allows pupils to explore what careers are available in a relaxed and supportive environment. In Years 9 and 10, pupils begin to investigate careers in a more purposeful manner, beginning with the Unifrog Interests profiling assessment, which provides a starting point for discussion with tutors, peers and parents. In Year 11, the focus is on finding, preparing for and carrying out work experience, and reflecting on that experience. Throughout these two years, the girls receive advice from tutors, Heads of House, Heads of Department, and the Academic Deputy Head about A Level choices, and these choices are carefully monitored in the first weeks of the Sixth Form. In Year 11 the girls have a one-to-one meeting with a specialist independent careers advisor.
In the Sixth Form, pupils prepare for life after school, with the emphasis being on securing the best university places and working towards the most fulfilling job opportunities. The girls receive regular talks and impartial advice about their Higher Education options. They come to the Senior Library for careers advice whenever they need it, and to explore the excellent careers resources. Information is available on everything from open days and scholarships to applications and gap year projects. Regular meetings with tutors help the girls to focus on the UCAS application process from an early stage, and their progress is carefully monitored by the Director of Sixth Form and his team. Speakers from universities come in to talk about the admissions process, and our excellent Inspirational Women series of talks provides a wide range of first-hand advice and careers experience. In the Lower Sixth, the girls have a follow-up meeting with their independent careers advisor and, where appropriate, there is the option of being paired with an alumnae mentor, and receiving a Myers Briggs assessment. The school's Alumnae Association holds a biennial careers conference, at which the girls can talk directly to their predecessors about their experiences. The result of all this is that the girls make choices that are fully informed, ambitious, realistic, and right for them. When they come back as alumnae, we are always very proud of how warmly and positively they talk to the girls who are here now and following in their footsteps.
University destinations for our 2021 leavers are as follows:
18% of the year group achieved places at Oxford or Cambridge.
77% of the year group achieved places at either Russell Group universities or their equivalent abroad, including: Oxford, Cambridge, Durham, LSE, UCL, Exeter, Edinburgh, Bristol, Liverpool, Cardiff and Newcastle; Trinity College Dublin, IE Madrid, the University of Hong Kong, and Georgetown, UCLA, Pomona, Columbia and Dartmouth in the USA.
Other leavers achieved places at St Andrews, Bath, Oxford Brookes and Kingston School of Art.