Information About St Mary's
The six Houses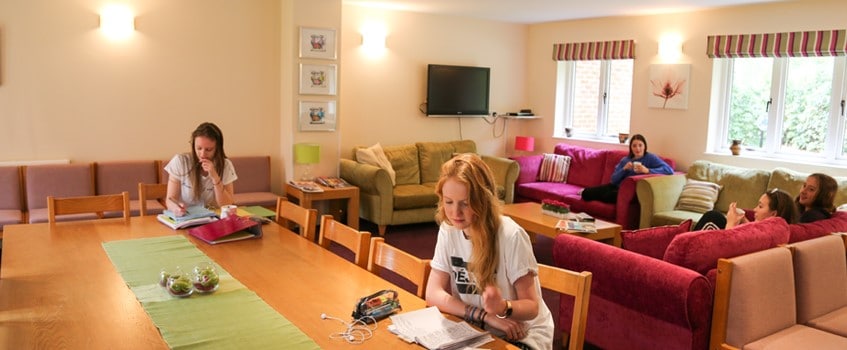 The school remains inspired to this day by the aims and mission of Mary Ward, the founder of the Institute of the Blessed Virgin Mary, which established St Mary's School in Ascot in 1885. The school's houses are all named after women who were members of the Institute in its earliest days, including Mary Ward herself.
MARY WARD HOUSE, named after MARY WARD (1585-1645)
Head of House: Kate Jenkinson. Kate taught at St Mary's from 2000-2001, and returned in 2012 as Head of the Upper Sixth Mary Ward House. She teaches in the Maths Department, and also runs the Wine tasting society.
Mary Ward was born in 1585 into a wealthy Catholic family, and grew up in Reformation England leading the double life that Catholics were compelled to live in those dangerous days. She felt called to the religious life at 15 and entered the monastery of Poor Clares in St Omer. By 1609, she had gathered around her a group of companions determined to follow her guidance in founding a religious Order for women along the lines of the Society of Jesus. Despite controversy and obstruction, they established themselves as a religious community in St Omer, and opened a school for girls. In the following years Mary Ward travelled widely, founding schools all over Europe. In 1639 she arrived in London, and founded several free schools there, as well as a convent near York. She died at St Mary's School in York in 1645.
BABTHORPE, named after BARBARA BABTHORPE (1592-1654)
Head of House: Helena West. Helena has been at St Mary's since 2000, and has been Head of Babthorpe House since 2006. She teaches in the Religious Studies Department, and is also a member of the Ministry team. She is in charge of and organises the annual retreats which take place for each year group.
The Babthorpes were one of the oldest recusant families in Yorkshire, and it was while staying with them in 1600 that Mary Ward felt the calling to religious life. In 1609, Barbara Babthorpe joined Mary Ward and the small band of women who had come together as Mary's companions at St Omer. She was named by Mary Ward to be her successor as Chief Superior in 1645. Barbara Babthorpe died in Rome in April 1654 and was buried at the English College.
BEDINGFELD, named after FRANCES BEDINGFELD (1616-1704)
Heads of House: Tom and Katie Parsons. Tom has been at St Mary's since 2000, and has been Head of Bedingfeld House since 2003. He teaches in the History of Art and English Departments. He also runs the Bridge club, and SPoKE, the national art history film competition which is hosted by St Mary's. He leads art history trips for parents to London and abroad, and enjoys playing in the staff and girls Football club. Katie joined St mary's in 2003 as Head of Bedingfeld House. She is a joint editor of the Ascot Alumnae Association magazine, and also takes parent trips.
Frances Bedingfeld became a pupil of Mary Ward at the age of 14, and at 16 entered the Institute in Rome. She accompanied Mary Ward on her last journey back to England in 1639. In 1669 she moved back to England for good, became a headmistress, and then a dedicated superior. In 1686, she bought a house just outside Micklegate Bar in York, and started a school there. The house is now the Bar Convent and is home to members of the CJ community. She died in Bavaria in 1704 and lies in an unmarked grave.
POYNTZ, named after MARY POYNTZ (1593-1667)
Head of House: Roisin Toner. Roisin joined St Mary's in 2002, and took over as Head of Poyntz House in 2009. She teaches in the Religious Studies Department. She is a member of the Ministry team, with particular responsibility for sacramental preparation. She is also the School Garden Co-ordinator.
Mary Poyntz lived and worked alongside Mary Ward from 1609 to 1627, and accompanied her on several journeys between England and Rome. In 1627, she was appointed the first superior of the community in Munich, and in the late 1630s, she once again accompanied Mary Ward on her return to England. When Mary Ward died in 1645, Mary Poyntz and Winifred Wigmore moved to Paris and worked on the first biography of Mary Ward. Mary Poyntz was appointed as successor to Barbara Babthorpe as Chief Superior in Rome in 1654. She died in 1667 and is buried in Munich in an unmarked grave.
ROOKWOOD, named after SUSANNA ROOKWOOD (1583-1624)
Head of House: Helen Jansen. Helen first joined St Mary's in 1994, and became Head of Rookwood House in 2010. She teaches in the Drama Department, and is also in charge of the school's many and varied equestrian activities.
Susanna Rookwood was 26 when she met her younger cousin Mary Ward, and was inspired by her enthusiasm and faith. She chose to go to St Omer with Mary, and within a few years was back in London as superior of a community of six members. In 1622, she went to Rome to assist Mary Ward in the presentation and defence of the Third Plan of the Institute before the committee of cardinals. Mary Ward valued her services highly, but realised that her spiritual gifts were underused. When the new house was set up in Naples in 1623, Susanna was named as the first superior. She was in office for only six months when she became ill and died.
WIGMORE, named after WINNIFRED WIGMORE (1585-1657)
Heads of House: Val and Nigel Hutchinson. Val and Nigel have run Wigmore House together since 2008. Val teaches in the Computing and ICT Department, and Nigel is a member of the Music Department and the school organist.
Winnifred Wigmore joined Mary Ward as one of her companions in 1609. In 1619, she became novice mistress in Liège. On the death of Susanna Rookwood, who was superior of the house in Naples, Winnifred was regarded as her obvious successor, but she resisted the appointment fiercely. In 1631, she went to Rome to set up a community on the Esquiline. Winnifred was one of the members who returned to England with Mary Poyntz and Catherine Smith, to be with Mary Ward at her death. In 1650, she went to Paris and became headmistress of a school and novice mistress. She died in 1657.