Home >
Sport, Music and Drama
Sport, Music and Drama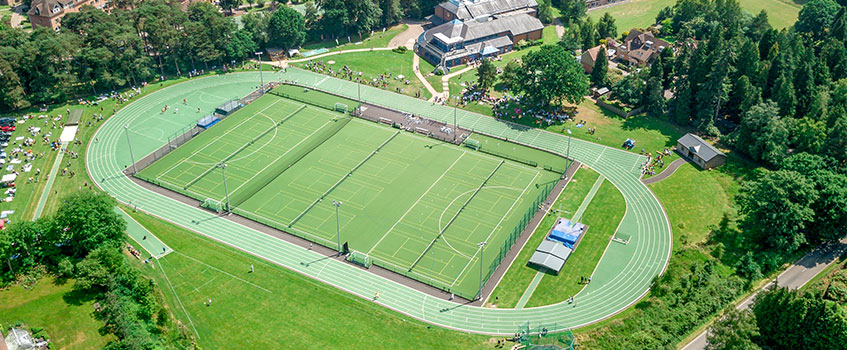 Sport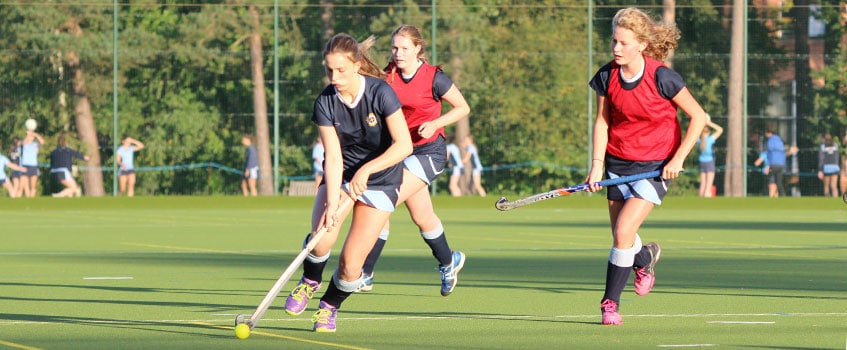 Sport is an exciting and central part of every girl's day. We are proud to punch well above our weight in competitive sport at local, district, county and national level. We have a stunning range of facilities and superb specialist coaching staff. There is a 6-lane/8-straight athletics track with external field areas, two floodlit AstroTurf pitches, which become 21 extra tennis courts in the summer, two further floodlit tennis/netball hard courts, three further floodlit tennis hard courts, a grass football pitch, and a 25m heated indoor swimming pool. The Orchard Centre is our state of the art indoor sports complex, which has a main sports hall accommodating four badminton courts as well as indoor basketball and netball, a fitness suite (with 22 cardiovascular machines), two glass-backed squash courts, and two dance studios, one of them mirrored.
In Year 7, all girls take part in our four major sports, hockey, netball, tennis and athletics, but also do gymnastics, swimming, cross-country and cricket. From Year 9 onwards, other options are available, including the fitness suite, basketball, volleyball, badminton, zumba, yoga, pilates and football. Individual tennis and athletics event coaching is available all year round. There is a huge range of other paid activities which the girls can opt for, including karate, fencing, trampolining, squash, ballet and modern dance, and we are able to make arrangements for coaching in other disciplines, such as golf, polo and table tennis, as required.
From Year 10, girls choose either hockey or netball to play competitively, but can also continue with tennis, athletics, swimming, squash, rounders, cross-country, or any of the other activities that are available. Every girl has the opportunity of up to two hours of sporting activity every day, and the Heads of House and tutors oversee their weekly timetable to ensure that they are maintaining a healthy balance in their lives.
All year groups have fixtures throughout the year in all the major sports of hockey, netball, tennis and athletics, as well as many other sports. We also enter and perform well at county, regional and national competitions. Two recent St Mary's alumnae represented England youth teams at rounders and netball whilst at the school. We also have a Gymnastics Gala and a Dance Show every year, and there are regular House competitions.
We run a programme of leadership activities and Sports Academy talks on topics such as nutrition, sport psychology and injury prevention. We take interested girls to the Girls Go Gold conference, and to international sports fixtures whenever possible. There is a trip to Flaine every year for the British Schools Ski Races competition, and a hockey and netball tour to South Africa every two years.
Music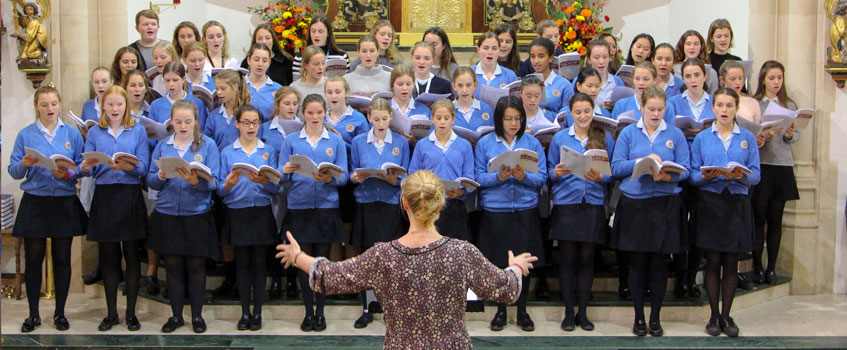 Music has a prominent role at St Mary's. There are regular concerts involving the orchestra, our various choirs, the jazz band, and other ensembles and soloists, and the choirs also take a leading role in worship at Mass on Sundays. There is at least one major concert every term, as well as regular lunchtime concerts, a scholars concert, a Music Captain's concert, and frequent performances at Open Mornings and other events. In the run-up to Christmas there is an evening of Voices by Candlelight, an Advent Charity Concert, and a very beautiful Carol Service. There are always plenty of opportunities for girls of all abilities to perform, and it isn't all classical. The senior girls also run an Open Mic night every term, and an annual Rock Concert.
Drama
There are plenty of opportunities for girls to perform on stage at St Mary's. Productions take place all year round, and involve girls from all year groups. There are up to nine productions a year, covering all genres, as well as a Drama Captain's play. Some productions take place in the Rose Theatre, while others are smaller scale studio productions. There is a whole school musical every other year. The Drama Captain's play is organised and directed entirely by the Sixth Form Drama Captain. Recent productions have included A Midsummer Night's Dream, Red, The Wizard of Oz, The Wardrobe, Little Women, and The House of Bernarda Alba. There is also an annual House drama competition, the entries for which are directed by the House Drama Captains, and which often experiment imaginatively with physical theatre and dance. Ensemble work is a stand-out feature of St Mary's productions, so all girls feel thoroughly involved, from the lead to the lowliest extra. Girls are also adept at running the sound and lighting booth and helping to build the wonderful sets.