Music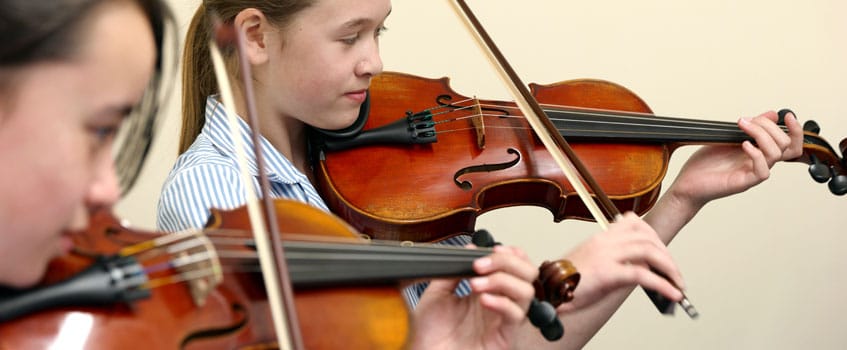 Music is taught to all girls in Years 7, 8 and 9, and is then an option at both GCSE and A Level.
In Years 7 to 9, pupils explore the three key elements of listening, composing and performing. As well as lessons in singing, and plenty of opportunities for performance, the girls also complete projects which span a variety of genres. These include musical theatre, animal compositions based on Saint-Saens' Carnival of the Animals, the study of Romantic programme music, and Music for Voice. In Year 9, projects include Folksong, Nationalism and Blues, and Music for Film. The Bands project during the Lent term involves all girls composing and recording a pop song in groups. The year ends with the popular Music for Film project.
At IGCSE, pupils follow the CIE course, in which composition and performance are key elements. Girls perform a solo and an ensemble piece each, and these performances are recorded. For the composition element, the girls compose and record two contrasting pieces. They also study a range of music, from the Baroque to the 20th century, including a world focus and a Western set work.
At A Level, pupils follow the OCR syllabus, and performance and composition again constitute a large part of the course. The girls put together and perform a 10-15 minute recital, which takes place before an audience of pupils, parents and staff, and is recorded. They also produce two original compositions over the two years. The written element of the course involves the study of the classical period, jazz and blues, programme music, and religious music of the Baroque period. The latter includes study of Handel's Messiah and Bach's St Matthew Passion.
Beyond the classroom
Trips are a regular feature of the Department's activities. We are able to take advantage of the world-class music that is on offer at top London venues, especially the Royal Festival Hall, including in the last year a rare performance of Rachmaninov's Symphony No. 3 in A Minor, and a complete performance of Ma Vlast, Smetana's nationalistic cycle of tone poems which the girls are studying for A Level. Year 7 were recently taken to a performance of Tchaikovsky's The Nutcracker, which they had been studying in class.
European choir tours are undertaken regularly by Campion, the main senior choir, and are always very popular. On the tour of Venice and Padova in 2016, the girls sang Mass in St Mark's Basilica, and gave concerts in the Salla della Carita in Padova and St George's Anglican Church in Venice. They also visited churches, watched fireworks on the Grand Canal, and saw glass-blowing on Murano. This was followed in December 2017 by a Christmas tour to Budapest, where the choir performed a number of concerts, as well as singing Mass at St Stephen's Basilica and a festive programme of music on the central stage at the Christmas market. Unfortunately, the proposed Venice trip for 2020 had to be postponed, but we hope to run this trip as soon as it becomes possible to do so.
Concerts at school take place regularly. In the Michaelmas term we hold our annual Voices by Candlelight concert, as well as an Advent Charity Concert and three carol services. The Vocal and Orchestral Concert in March is the main school concert of the year. In 2019, the programme included a complete semi-staged performance of Henry Purcell's Dido and Aeneas. Soloists and ensembles perform regularly on other occasions such as Open Mornings and alumnae events. Informal lunchtime concerts are held every two or three weeks.
The girls also organise their own major events. The Summer Soirée is a concert organised with Sixth Form pupils who put on ensemble pieces with girls from younger years and guest performers from boys schools. The programme often includes original compositions. The Music Captain also organises and hosts her own annual concert, which might be a formal classical concert in the Chapel, or a contemporary café-style event in the Rose Theatre. In addition to the classical repertoire, the Department also organises regular Open Mic nights, and an annual Rock Concert.
Individual tuition in almost any instrument is offered by our wide range of peripatetic teachers. Lessons take place in one of our many practice rooms, all of which have pianos. Practice rooms and times are available to all girls throughout the day, including weekends, from 7:30am until 10:00pm. Instrumentalists and singers are entered for Associated Board and Trinity Guildhall music examinations, which take place every term.
Ensembles
In addition to our practice rooms, we have larger tutorial and rehearsal spaces, and opportunities for collaborative music-making are plentiful and fun. Concerts take place either in the Rose Theatre or in the Chapel.
Campion is the main senior choir, comprising girls from Year 9 upwards. Membership is by audition. Campion is at the heart of the school, providing liturgical music for Sunday Mass, singing at whole school events such as Open Day, and touring abroad every 2-3 years.
Junior Campion is the junior choir for pupils in Years 7 and 8. They lead the singing at Mass once a term, and perform in concerts throughout the year. Junior Campion provides excellent preparation for the senior choir.
Davenport is the informal choir which comes together in the Michaelmas term every year to participate in Christmas celebrations.
Madrigal is a group of singers who specialise in contemporary music. As well as performing in school concerts, they are often invited to perform at school events and functions.
Senior Madrigal is a select choir of 16 voices who perform in school concerts and at other special events.
Senior Orchestra is comprised of girls of Grade 5 standard and above. They perform in concerts several times a year, including the school's main annual Vocal and Orchestral n Concert.
Concert Band provides an opportunity for younger musicians to learn to play together in a large ensemble, and to perform repertoire that is light and enjoyable, including film and show music. The emphasis is on music-making as collaborative and fun.
Jazz Band provides an opportunity for girls to enjoy ensemble work in a range of different styles, from blues and funk to swing and Latin. Girls learn to play tailor-made arrangements, and perform in both school and charity concerts.