History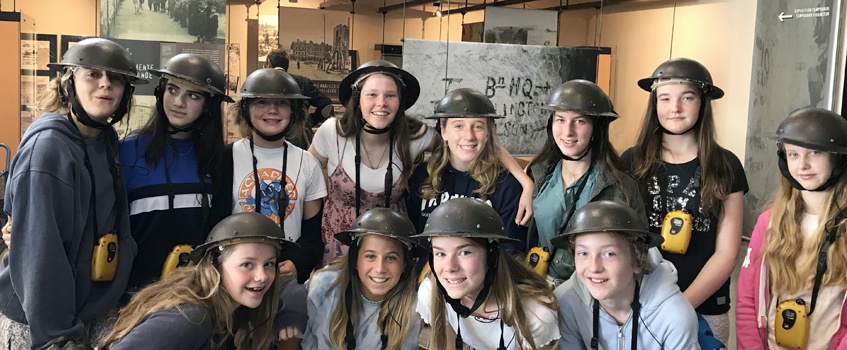 History is taught to all girls in Years 7, 8 and 9. It is then an option at both IGCSE and A Level.
In Years 7 to 9, the girls follow a course in British history starting in 1066 and finishing in 1945. In Year 7 they learn about medieval life in villages and castles, and also complete a unit on Imperial China. In Year 8 they study the Tudors and Stuarts, and also learn about the French Revolution. In Year 9 the course moves on to empire, slavery, and the radical changes of the 18th century. The girls also study World Wars One and Two, in conjunction with the poetry course taught by the English Department, and go on a joint History, English and Art Department trip to the World War One and Two battlefields of Europe.
At IGCSE, pupils follow the CIE course. This looks at international relations from 1919 to 2001, and also involves an in-depth study of the Great Depression and Germany between the wars. The girls all complete a detailed non-examined assessment project as part of the course.
At A Level, pupils follow the Edexcel course. They study political, social, religious and cultural history, covering topics such as the 16th-17th century witch craze, 20th century British and US history, and a non-examined assessment project chosen independently by each pupil.
Beyond the classroom
Trips are an important part of studying History. In the lower school, we take all the girls on day trips to Hampton Court and the Tower of London, and in Year 9 they have a 5-day residential trip to the 20th century battlefields of Europe in the last week of the summer term. IGCSE pupils have study days on subjects such as Vietnam and the Holocaust. In the Sixth Form, trips go up to London to lectures and exhibitions at venues such as the British Museum and the British Academy.
Year 9 compete in a House balloon debate in which they argue for the significance of their chosen historical characters. The History Society runs fortnightly events, and a weekly group provides an opportunity for those Sixth Form girls interested in further study to explore their own historical interests in greater detail.