Home >
Co-curricular activities
Co-curricular activities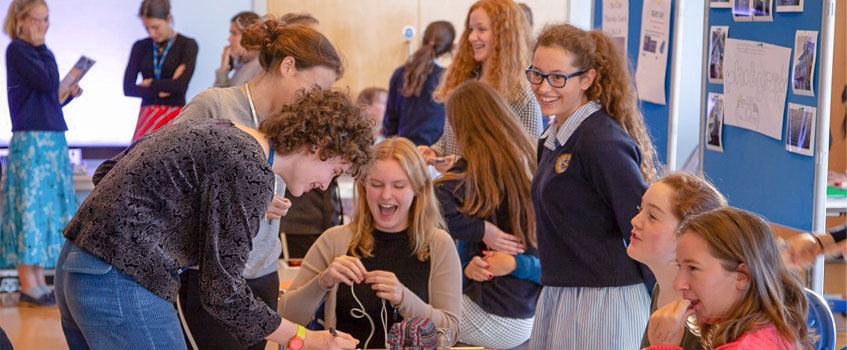 Once the last academic lesson ends, at 4:30, the girls spread off around campus, to sports practices, music or drama rehearsals, club and society meetings, dance practices, talks, House teas, trips, events with other schools, house competitions, or one of the many other activities that are available. There are clubs and societies for almost everything, from the Gender Equality Discussion Group to the Coding and Robotics Club, but the afternoon and evening schedule is flexible so that girls can make the best use of their time. This includes designated quiet times and spaces for girls to do their Study without interruption or distraction.
Societies, Clubs and Activities
Creative and performance arts
Creative Writing Club
Camera Club
Clay Club
WHAT magazine
Painting and Drawing Club
Music
Madrigal Choir
Senior Orchestra
Rock bands
The Campion Singers
Concert Band
Session Band
Junior Campion
Jazz Band
Composing Club
Davenport Christmas Choir
Music Scholars' Ensemble
Rock Soc
Drama
School play
Drama Captain's play

Theatre Tech Club

Lower school play

School musical
Trinity Guildhall examinations

Studio theatre play





Sport
Team sports
Hockey
Netball
Athletics
Tennis
Swimming
Squash
Clubs and activities
Athletics event training
Swim Squad
Gymnastics
Cross country
Fencing
Modern dance
Cricket
Polo
Contemporary dance
Trampolining
Riding
Ballet
Golf
Skiing
Pointe
Football
Badminton
Tap
Fitness and wellbeing
Group fitness
Pilates
Yoga
Alexander technique
Aerobics
Body conditioning
Academic
CREST Science award
Coding Club
Minerva Society (History of Art)
Medical Society
Python Coding Club
ArtSpark
(Junior History of Art)
Dissection Club
Cyber Discovery Club
Modern Foreign Languages Film Society
Junior Science
NT Live
Russian Club
Senior History Film Club
Classics Society
PolEcon
Junior History Book Club
GeogSquad
Theology and Philosophy Club
Maths Challenge Club
Literary Society
Junior French Film Society
Other activities
Service Squad
Gender Equality Discussion Group
Pet Shed
The Duke of Edinburgh's Award
FemSoc
Bridge Club
Debating Society
Girl Up!
Spelling Club
Public Speaking
Diversity Discussion Group
Cookery Club
Newsflash
BAME Society
Lego Club
Junior Book Club
Environmental Society
Board Game Society
Enterprise Club
Law Soc
Flix for the Sixth
Chess Society
Model United Nations
Wine Tasting Society
Caledonian Society
Weekends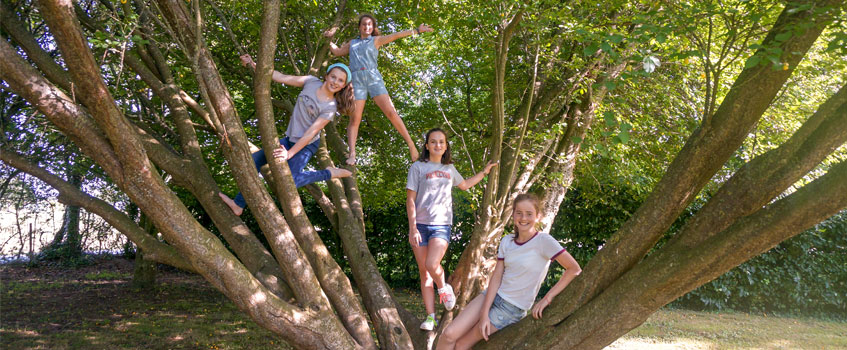 Weekends are busy and fun at St Mary's. There are often sports fixtures or House competitions on Saturday. The weekend programme then extends well beyond that, and could include almost anything: in the past year, trips have gone out to theme parks such as Birdworld and Chessington, waterparks, trampoline parks, or to go climbing, sailing, or ice skating. The girls have even been snotubing, and driven miniature tanks. There have been outings to museums and galleries both locally and in London, and to cinemas and the theatre. In fine weather, girls might go out for walks in the local countryside, or just enjoy an outing with friends to the cafés and shops in Ascot, Windsor or elsewhere.
On site, there is always plenty to do. Quiet time is always set aside for working. Elsewhere, the girls might have a roller disco, an afternoon of giant inflatables, or circus skills training, and there are always craft activities such as making jewellery, designing T-shirts, or learning professional stage make-up. The Art Department studios are open all weekend, as are the Music Department practice rooms and the libraries. Food is always fun, with barbecues, pizza in the woods from our own wood-fired pizza oven, or cake and cookie baking. Girls often take a lead in organising, advertising and running weekend events, many of which raise money for charity. There are also regular exeats when the girls can go home to relax and see family, and they are allowed to take one additional 'floater' weekend per term.
Links with other schools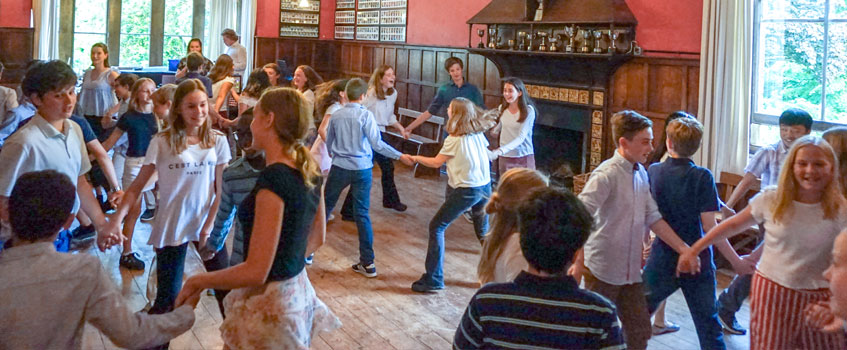 As a girls boarding school, we know how important it is to maintain good links with the world beyond our immediate community. We have active debating and Model United Nations societies who regularly meet and compete with other schools, and we enjoy a strong partnership with Eton, which is only a short drive away. The girls and boys meet up for societies and talks, and girls regularly attend Eton's Medics Society, as well as other events. Etonians preparing for confirmation share in the St Mary's Confirmation preparation in Year 10.
The girls love getting together with boys their age from other schools at socials on Saturday nights, and we hold these regularly for all ages with Eton, Winchester, Harrow, Radley, Papplewick, Ludgrove and Woodcote. Reeling is a particularly popular activity, but as well as music and dancing, we organise quizzes, discussion suppers, sports events and joint workshops, and the girls on the Socials Committee enjoy devising and planning new events. Departments also regularly join up with other schools for talks and society meetings. Our Sixth Form Ball at the end of the summer term is a wonderful celebratory event for the girls, their partners and parents, and is held in a marquee in the school's beautiful grounds.
Charities and service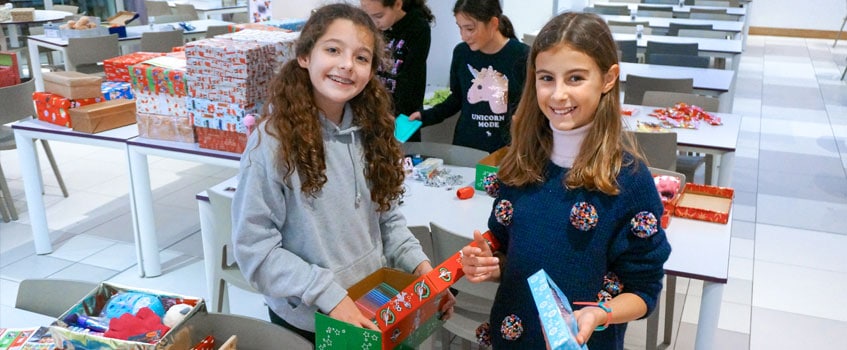 Service to the community is an integral part of the Catholic tradition. Girls help out in local charity shops and residential care homes, and with a local organisation helping people with disabilities. We also have a squad which maintains public footpaths in the area. Service is a central part of the Duke of Edinburgh's Award, which a large number of girls complete every year. Many of them also join OMV's annual pilgrimmage to Lourdes.
Charity events are a weekly feature of life at St Mary's, and are overseen by the pupil-led Charities Committee. Last year the girls raised over £27,000 for a range of causes that are dear to them, from Equality Now and Path out of Poverty to the Teenage Cancer Trust and Save the Rhino. Houses raise money for their chosen charities on most weekends, through bake sales, toasty making and raffles. There is an annual Year 10 Charity Funfair, which, with its exciting food and games stalls, has the feel of a country fête. Senior girls organise major events such as the Rock Concert and the Summer Soirée, and publish the student magazine, WHAT, which they sell for charity. We have Home Clothes days, an annual charity tennis tournament, raffles, and monthly CAFOD lunches, which raise money for the Catholic Fund for Overseas Development. Through all of this, the girls grow up understanding that charity means not just giving money, but also giving time.
The Duke of Edinburgh's Award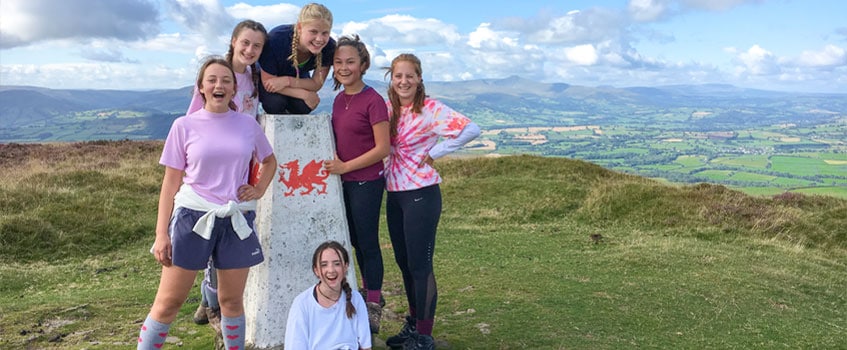 Success in the Duke of Edinburgh's Award depends upon commitment to the ideals of service and self-improvement, and it is therefore a source of great pride for us that almost every girl in Year 9 and 10 completes her Bronze Award, up to two-thirds go on to complete their Silver Award, and usually between a third and a half go on to complete Gold. Every girl gives dedicated time each week to volunteering, the development of a personal skill, and practising a physical activity of her choice. At all three levels, the Award also requires one practice expedition and one assessed expedition, which take place in areas such as the New Forest, for Silver, or the Vercours region in France for Gold.
Dance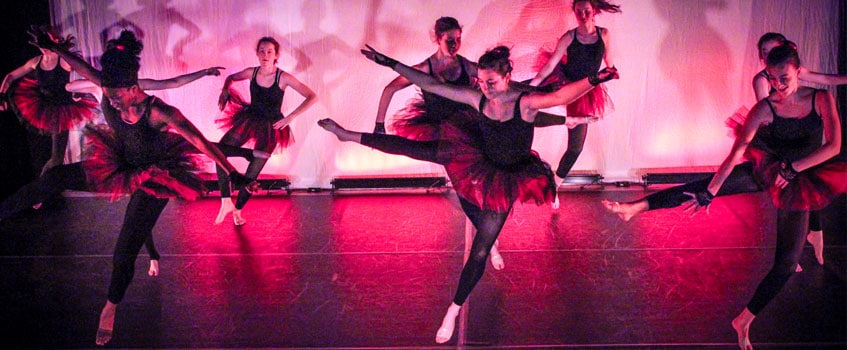 Girls in all year groups can choose weekly dance classes as a paid option. We offer ballet, tap, pointe, contemporary and modern, which includes street, jazz and hip-hop, and girls doing ballet can opt to take the Royal Academy of Dance examinations. Classes take place in our two dance studios in the Orchard Centre Sports Complex. Every girl who takes dance performs in the annual Dance Show on the stage of the Rose Theatre, and there is also a House competition every year, which is run by the House Dance Captains. Girls may elect to take GCSE Dance, which is offered locally through the Natalie Vinson School of Dance. For our more talented dancers, the Dance Company is the school's performance group, which trains at a higher level, and performs both at school and at local dance events such as the LiftOff Festival and the Vanquish Entertainment shows. St Mary's girls have also auditioned successfully for the Berkshire County Youth Dance Company, the London Children's Ballet, and even the Bolshoi.