Home >
Admissions procedure
Admissions Procedure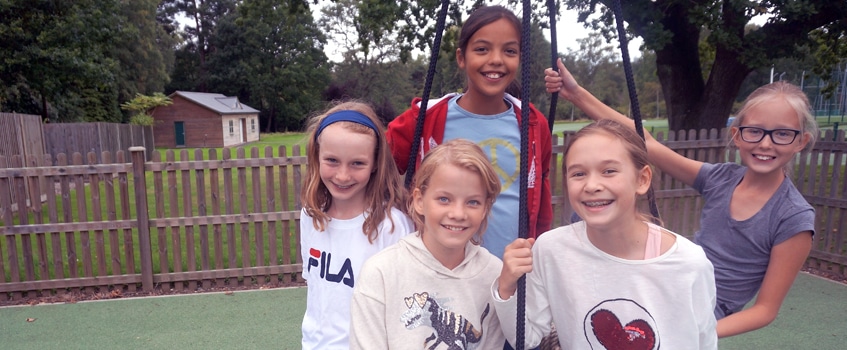 The school accepts about 65 pupils each year. Entry is at 11+ (our main intake), 13+ or 16+ and is by the school's own entrance examination, an interview and a report from the current school. About 40 pupils are admitted to Year 7 (11+), 20 to Year 9 (13+) and about 5 to the Sixth Form (16+).
If you wish to apply for entry to St Mary's Ascot, we suggest that you register your daughter at least two years prior to the year of entry. This will place your daughter on the candidate list to sit our entrance examination. If you would like to discuss any aspect of our admissions procedure, please contact the Registrar, Mrs Sandra Young, either by telephone on: 01344 296614 or by email at admissions@st-marys-ascot.co.uk.
Assessment
Entrance examinations
The examinations and interviews take place at St Mary's in November / December prior to the year of entry for 16+ entrants, and in January / February of the year of entry for 11+ and 13+ candidates.
| | |
| --- | --- |
| 11+ Assessment | Monday 25 January 2021 |
| 13+ Assessment | Tuesday 10 & Wednesday 11 February 2021 |
| 16+ Assessment | Wednesday 25 November 2020 |
The school does not issue past papers but will supply guidelines to the current school or parents upon request. The subjects tested are:
at 11+: English, Mathematics and a general paper (which could include: graded spelling; non-verbal puzzles; listening skills)
at 13+: English, Mathematics, Science, Religious Studies, History or Geography, French or an alternative modern language (Spanish, Italian or German) and Latin
at 16+: a general paper, and interviews in the subjects to be studied at A Level
Please contact the registrar, Mrs Sandra Young, on 01344 296614, or by email at
admissions@st-marys-ascot.co.uk, if you have any queries about our entrance examinations.
Results are normally notified within three weeks of sitting the examinations.
Fees
Academic Year 2020-21
| | |
| --- | --- |
| Registration fee | £300 |
| Acceptance fee | £2000 |
| Boarding fee | £13,580 per term |
| Day boarding fee | £9,670 per term |
FAQs
How do I arrange to come and visit St Mary's?
Under the current circumstances, it is not possible to visit the school in person, but you can still make a telephone appointment to discuss your daughter's education with the Headmistress. We hold four Open Mornings a year, usually in March, May, September and November. At the moment, these events are taking place online, but as soon as circumstances permit, you and your family will be welcome to come and look at the school and meet staff and girls informally.
How far in advance do I have to register?
You can register your daughter for a place to sit the entrance examination as soon as you wish. This ensures that the school can keep in touch with you until your daughter comes to sit the entrance examination. We do suggest that registration take place at least two years prior to the entry date. All who are registered come to St Mary's to sit their entrance examination in the January and February of the year of entry.
At what age can my daughter start at St Mary's?
The school's main intake is at 11+, when we accept about 40 girls. There is also a smaller intake of about 20 girls at 13+. The school also has a small intake at 16+ for Sixth Form.
Is there an entrance examination?
St Mary's conducts 11+, 13+ and 16+ entrance examinations at the school. At 11+, girls come to St Mary's for a day in the January of the year of entry. They will sit examinations in English, Mathematics, a general paper and will also have a session in the gym. Examinees are looked after for the day by a current Year 7 girl who will take her to break, lunch, to and from examinations and to see the school.
At 13+ girls come to St Mary's for two days in the February of the year of entry and candidates are invited to spend the night at school. The examinations will include English, Mathematics, Religious Studies, Science, a modern language, Geography or History and a Latin paper.
Both the 11+ and 13+ examinations are similar to Common Entrance, although girls also have an interview with the Headmistress or one of the two Deputy Headmistresses. The 11+ and 13+ St Mary's examinations do not require girls to be coached or trained, and examination results are not the sole factor in a place being offered.
At 16+ girls come to St Mary's for a day. They sit a general examination paper and will also meet the Heads of Departments of the subjects to be studied at A level. In addition they have an interview with the Headmistress and the Head of Sixth Form.
Does St Mary's accept non-Catholic girls?
St Mary's gives preference to girls who are Roman Catholic. 98% of girls at St Mary's are Roman Catholic. The Catholic ethos forms a cornerstone of life at St Mary's. The whole school gathers for prayers in the chapel every morning. Our resident chaplain says Mass every Sunday.
How many girls board?
Only approximately 15 girls are day boarders and these girls live very locally to the school. Day boarders participate fully in the programmes of activities organised at weekends and are required to be at school when their House is on duty at a weekend.
Day boarders have to be at school by 8.15am. Although lessons end at 4.30pm, day boarders must stay at school to complete their study and/or take part in sports matches, drama productions or clubs. Day boarders must attend on a Saturday morning until 12.15pm. The majority of day boarders will go on to board as they progress through the school.
Where can I purchase a uniform for my daughter?